I Am Hip-Hop Magazine (Feature)
Updated: Jun 8, 2019
By Rishma Dhaliwal • On May 28, 2019 What is New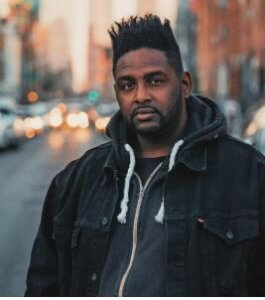 Listen to Deshawn White — Power Trip
Tennessee based artist Deshawn White recently released his latest EP Power Trip on the 23rd April.
Amidst all the political and cultural tension across the globe today, Deshawn White brings us a collection of tracks to encourage unity and combat negativity. Speaking out about racial segregation, Power Trip is not only an authentic Hip Hop record but also a powerful voice for his identity.
Deshawn White describes the process that came with creating this album as a means of therapy, as a way to imagine the world where we make judgements on the content of someone's character as opposed to the colour of their skin. As a result, the album embodies a subtle notion of optimism of a more reconciled world.
This powerful message is delivered through heartfelt lyrics and a raw, unrefined vocal. Together with its melodic urban beat, this the album uncovers a promising Hip Hop talent.
Deshawn is no stranger to the scene, having already built up an impressive streaming record over 48k monthly listeners, we are well aware that is just the start of bigger things for Deshawn.
Once coined "the King of East Tennessee" by his fans, Deshawn White continues to come back with impressive personal developments to shock the industry. His music draws influences from the likes of J. Cole, Kendrick Lamar and DMZ so it is clear to see where his talent for rap lyricism originates.
Showcasing both his political activism and his poetic nature, Deshawn White delivered his latest EP, Power Trip on the 23rd April 2019. 
Support Deshawn White on Social Media 
Facebook | Twitter | Instagram
Listen to more of Deshawn White
Rishma Dhaliwal
Editor / PR Consultant at No BoundsRishma Dhaliwal has extensive experience studying and working in the music and media industry. Having written a thesis on how Hip Hop acts as a social movement, she has spent years researching and connecting with artists who use the art form as a tool for bringing a voice to the voiceless. Currently working in TV, Rishma brings her PR and media knowledge to I am Hip Hop and other projects by No Bounds.
Original Article Link - http://www.iamhiphopmagazine.com/new-music-deshawn-white-releases-ep-power-trip/